Just last week we launched a new initiative that we believe is a game-changer. Our new Facebook Ads Manager integration in Connect allows you to create Facebook advertisements alongside your online donation forms. Best of all, Click & Pledge will pay for your ad — no questions asked. It's part of our mission to make 2017 the Year of Causes: by investing our time and resources toward promoting your specific mission.
If you're already excited and ready to go, take a look at our Support article to help your organization get started. We've already seen some great ads come through the platform, but we also want to help you make the best ad possible. So we put together this handy little guide on how Facebook reviews advertisements, and some best practices to make them as aesthetically pleasing as they are inspiring.
How Facebook Places Your Ad
First, a little background on how Facebook determines who sees your ad, and where it's placed. Similar to Google AdWords campaigns, Facebook implements an auction-style "bid" for ad placements. This means that your ad is competing against other ads to earn a spot on an individual's News Feed, Instant Articles, or right-hand column on Facebook's interface. Facebook considers each ad placement as an Impression,which equals one ad viewing.
The ad's Reach is independent from impressions. While impressions measure every single ad placement, reach equals the number of unique placements.
For example, let's say Suzy checks her News Feed three times a day. Suzy sees your ad each time she logs in to Facebook. While Suzy garnered three "impressions" (because she saw the ad three times), she only counts as one "reach" (because she's one specific person.)
"So," you might ask yourself right about now, "how much should I bid? And how do I get my ads in front of Suzy, or whomever I want to see them?" This would be a great time to explain how our Facebook Ads Manager integration works inside the Connect platform.
How We Distribute Your Ad Through Our Platform
Facebook's robust Ads Manager platform allows for myriad ways to customize your demographics and target markets.
You can go down a nutty, endless rabbit hole of donor personas if you really want to define your audience that narrowly, but we don't recommend it. Instead, we're big fans of Ads Manager's Custom Audience features. So much so, that we specifically designed the Facebook Ads Manager integration with these parameters as the utmost priority when selecting a target audience.
What's a Custom Audience?
Facebook allows you to build Custom Audiences from a customer list. This usually comes from your email list, or your CRM's data on previous donors (Side note: we recommend Salesforce® for your go-to CRM). You can create your Custom Audience in our platform by uploading a .CSV file to the Ad Manager section.
While this can be a good tactic to target recurring donors, we do advise you to read Facebook's Custom Audiences Terms before creating a Custom Audience. This is because Facebook requires you to provide appropriate notice to your website visitors, or donor email list. Uploading a Custom Audience to Facebook may require a user's express consent on your website or email list.
So if you have an email newsletter list, that's a great place to start. Keep in mind that at least 1,000 contacts on your list must have a Facebook account in order to create a custom audience.
How To Get The Most Reach Out Of Your Ad
We've optimized our Facebook Ads Manager integration to generate the most link clicks from your ad. But hold on there, eager beaver: Facebook can't guarantee your ad receives the maximum amount of distribution possible. To achieve optimal results, Facebook institutes creative guidelines to ensure your ad remains user- and device-friendly. You can read the whole spiel in its Ads Guide, but here are the basics to keep in mind when using our Ads Manager integration inside Connect.
Recommended image size: 1,200 x 628 pixels
Image ratio: 1.9:1
Text: 90 characters
Headline: 25 characters
Your image should also include minimal text. Here's how it works: The more text you place in your ad's image, the more likely it will reach fewer people. In the past, Facebook didn't accept any ad images with more than 20% text. While they recently relaxed this rule, ads with more text are still penalized and receive less distribution.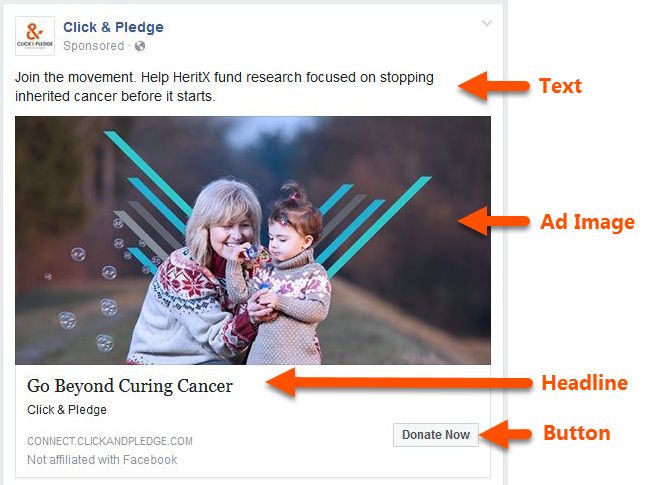 Show your cause's story. Again, there's no need for text in your image if your image captivates the essence of your nonprofit's brand.
Tell your cause's story. The ad's text section is a great way to support your image with engaging copy that speaks to your presence and pulls an audience's attention.
Have fun with it! The best part about Connect's ad integration is that Click & Pledge will pay for your ad, no questions asked. This is your organization's opportunity to realize its larger digital potential.
We designed the Facebook Ads Manager integration in Connect to help you do more good. We want to make sure the Causes who work with us succeed, and captivate a mass audience like never before.
As we continue to monitor the integration's functionality, we'll keep building upon it to ensure your organization's creativity and collateral is less hindered.
We believe that, combined with your hard work, is "Like"-worthy.
See why thousands of Causes trust our all-in-one online fundraising platform. Get in touch with us and we'll help determine whether our platform is right for you.