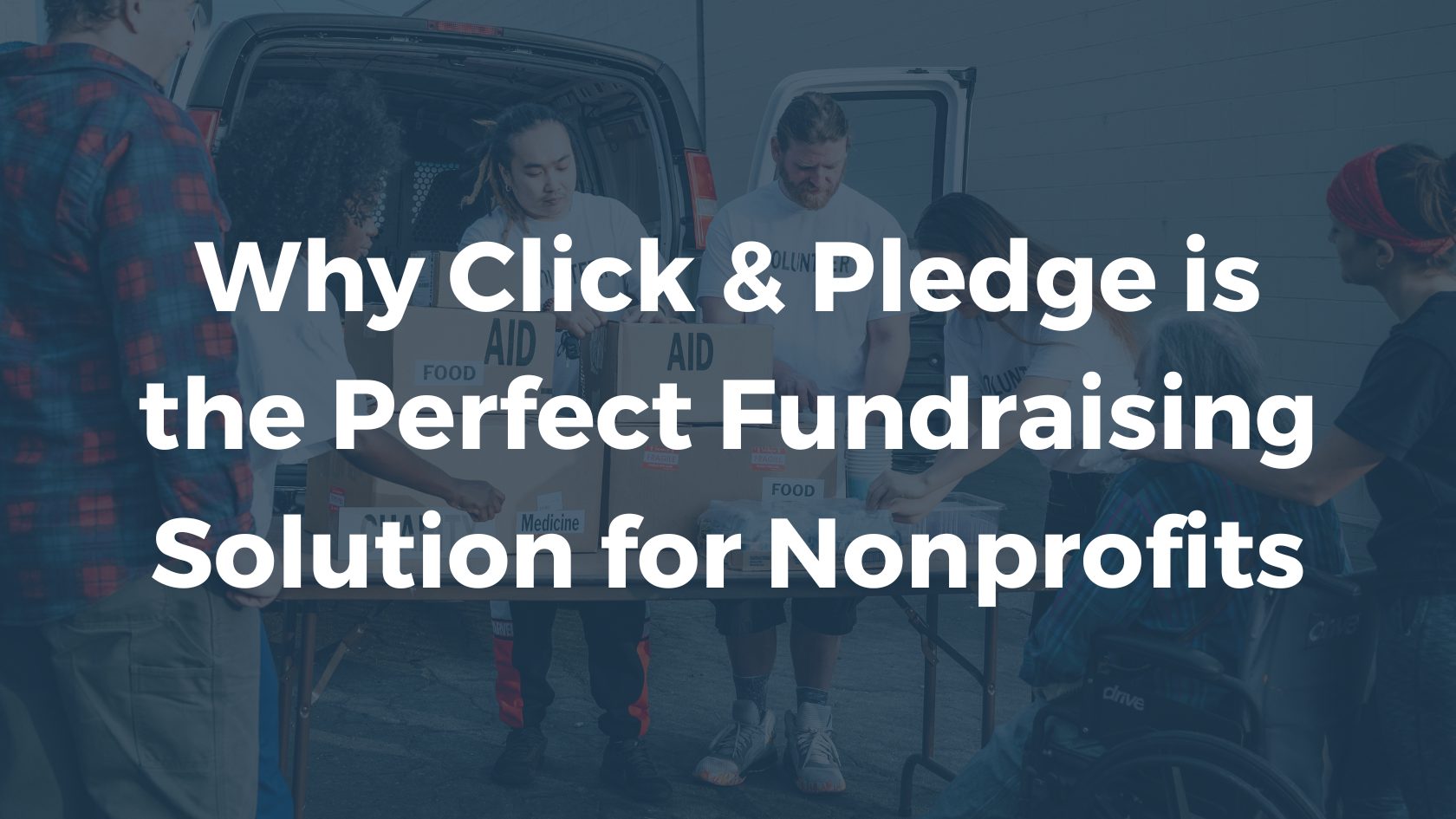 As Salesforce retires the Elevate family of products, nonprofits are faced with the challenge of finding a new fundraising solution to continue their important work. In this blog post, we will explore why Click & Pledge stands out as the ideal choice for nonprofits seeking a robust and reliable fundraising platform.
1. Seamless Integration:
One of the standout features of Click & Pledge is its seamless integration with Salesforce with the Click & Pay Suite. If your nonprofit is using Salesforce Elevate, our Salesforce integration offers a robust set of solutions that seamlessly integrates with the Salesforce platform. This integration enables you to efficiently manage their fundraising efforts, providing you with the tools you need to optimize your strategies and drive meaningful impact.
2. All Our Solutions, Right At Your Fingertips
Click & Pledge offers a remarkable array of solutions designed to empower your organization, enabling you to be both strategic and innovative in your fundraising endeavors. Unlike other platforms, we firmly maintain pricing consistency, ensuring that the size of your organization doesn't impact the cost. Furthermore, our commitment to transparency means that you have unrestricted access to every feature within our platform, allowing you to harness its full potential in pursuit of your mission.
Some of our solutions include:
Donation Forms
Text-to-Give
Peer-to-Peer Sites
Click & Pay Suite (Salesforce Integration)
Video Fundrasing
Donor Outreach
In-Person Fundraising
Third Party Integrations
…And so much more!
3. Comprehensive Reporting and Analytics:
Click & Pledge provides robust reporting and analytics tools that allow nonprofits to track their fundraising performance and make data-driven decisions. Gain insights into donor behavior, campaign effectiveness, and donation trends to refine your fundraising strategies.
4. Security and Compliance:
Security is paramount when handling donor data and financial transactions. Click & Pledge is a PCI Level 1 provider. PCI DSS compliance standards require strict adherence to a large number of security requirements to maintain our certification. All servers, workstations, network connections, products and offices are audited annually by a 3rd party PCI DSS qualified security assessor (QSA). Additionally, both the official QSA and an additional 3rd party performs in-depth scans and vulnerability tests quarterly.
5. Customizable Settings:
Click & Pledge offers an interface that allows you to customize user permissions and campaign details, making it fit your organizations needs. With its user-centric design and custom permissions, your team can quickly adapt to the platform, reducing the learning curve.
6. Customizable Campaigns:
Nonprofits have unique fundraising needs, and Click & Pledge understands that. The Click & Pledge platform allows you to create highly customizable fundraising campaigns tailored to your organization's goals and brand. From peer-to-peer fundraising to SMS-Giving, Click & Pledge offers a wide range of solutions to suit your fundraising goals.
7. Flexible Donor Payment Options
Click & Pledge is dedicated to facilitating convenient and hassle-free ways for your donors to contribute to your nonprofit. We proudly accept a variety of donor payment methods, ensuring that your supporters can choose the option that best suits their preferences and needs.
These donor payment methods include: 
Credit Cards (Visa, Mastercard, Discover, American Express)
PayPal
Apple Pay
Venmo
Google Pay
Stripe's Link
Direct Bank Transfer
8. Mobile Responsiveness:
In today's digital age, donors expect to engage with your nonprofit from any device. Click & Pledge is mobile-responsive, ensuring that supporters can donate and engage with your campaigns seamlessly, whether they are on a desktop computer, tablet, or smartphone.
Conclusion:
As Salesforce Elevate retires its products, Click & Pledge emerges as the perfect fundraising solution for nonprofits seeking a reliable, customizable, and integrated platform. Its user-friendly interface, seamless Salesforce integration, comprehensive reporting tools, and commitment to security and compliance make it an excellent choice to continue your nonprofit's fundraising journey.
How Do I Get More Information About Click & Pledge's Salesforce Integration, The Click & Pay Suite?
Sign Up for Click & Pledge Today!