A revamped online presence brings year-end success to a regional food bank
Regional Resources, National Impact
Tucked away in Virginia's Roanoke Valley, in neighboring Salem, there's a warehouse. If you're ever in the area, you should go there sometime. Because it's not just any warehouse. This warehouse supplies food to over 330 feeding programs across 26 counties and 9 cities. It's full of canned and nonperishable foods, fresh fruit and vegetables, and miscellaneous grocery items. There's even frozen meat. That's because when grocery chains receive misprinted labels or cans with small dents from retailers, they turn to Feeding America Southwest Virginia to reduce waste and help the community.
It's a ton of food. Actually, a literal "ton" doesn't come anywhere close to its figurative meaning. That's because FASWVA's giant, yellow warehouse distributes 21 million pounds of food per year.
"The number one thing we hear people say is, 'I had no idea,' " said Anna Goltz, FASWVA's Annual Fund & Corporate Relations Officer. "Once you see the warehouse, once you see the map of the territory we serve, it's very surprising to people."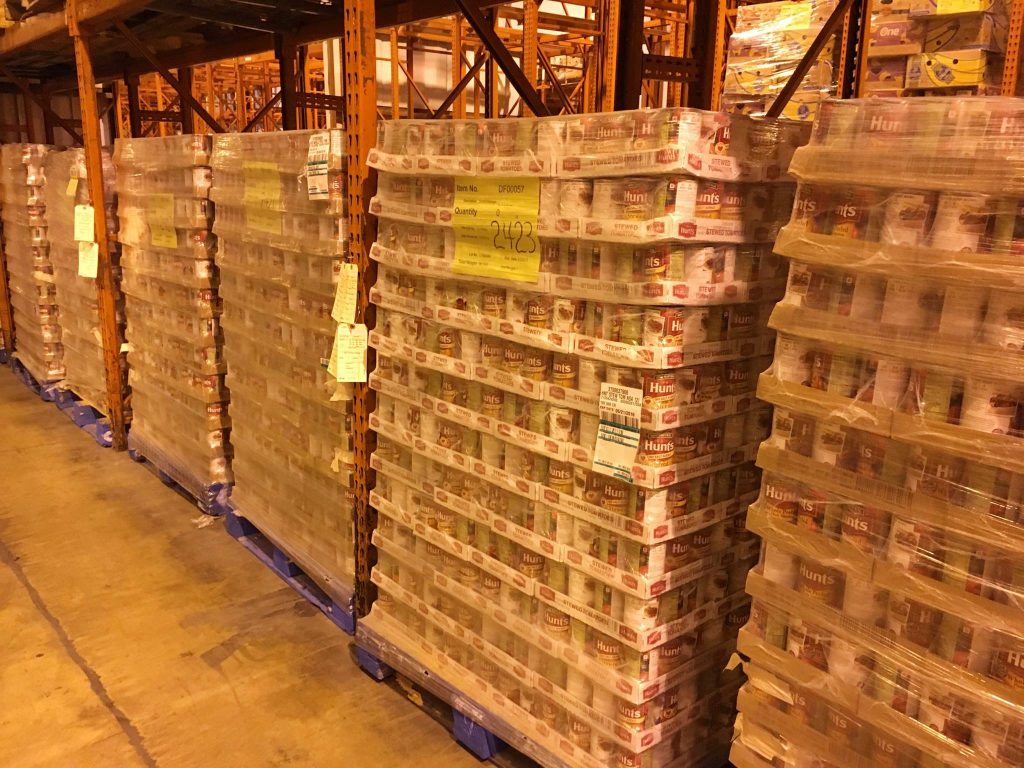 The fight against food insecurity — when individuals don't have access to enough nutritious food to lead healthy lives — wasn't always this way. Gleaning fields after harvest is an ancient process, but in the modern day, food is more likely to be wasted when retailers and manufacturers throw away products with branding blemishes. Feeding America Southwest Virginia, a member affiliate of the national Feeding America network of food banks, works with grocers, restaurants, and manufacturers to rescue food waste and ensure food safety before distributing food throughout a local network of partners.
FASWVA's spokeswoman Amanda Allen emphasized the importance of a centralized, coordinated effort to stock Southwest Virginia's food pantries and soup kitchens.
"I can sit in my office in Salem, and help get food in transit to Danville, [Virginia], and that's what makes a big difference."
But food can't magically move itself across 26 counties. It takes forklifts to move the food crates and palettes; refrigerated trucks to move them across highways; fuel to move said trucks.
"That's what we do. We move food," Goltz said. "We're a nonprofit, but we almost operate like a trucking company."
This is logistics. This is how FASWVA generates more impact than imaginable. Refrigerated trucks might not be the image that first comes to mind when thinking about donating to feed the hungry. But that's exactly the kind of equipment a food bank needs to get the job done on a massive scale.
"Whenever people give charitable donations online, I think they've been more educated on what to look for. They now know to make sure everything is safe and legitimate."

— Amanda Allen, FASWVA spokeswoman
The nonprofit often cites that just $1 can provide seven meals for those in need. And while FASWVA does receive reimbursements from the U.S. Department of Agriculture for limited feeding programs, the majority of its efforts are only possible by private support.

Hungry for change
Anna Goltz knows that Web design matters. Donors take notice when your online forms don't look exactly like your website. And up until 2016, FASWVA's online donation experience wasn't the most fluid of processes. "Wonky," as Goltz described it. Email confirmation receipts appeared too transactional, and lacked personality.
"Whenever people give charitable donations online," Allen explained, "I think they've been more educated on what to look for. They now know to make sure everything is safe and legitimate."
While FASWVA used Click & Pledge for nearly a decade, there was never anyone who truly got "hands-on" with the platform. Goltz changed that when she came to FASWVA in February 2016.
With that year's holiday giving season approaching, Goltz decided to overhaul FASWVA's online donation process. Coincidentally, this was right around the time that Click & Pledge launched its revamped portal: the all-new, all-in-one online fundraising platform that we now call Connect.
Feeding a fundraising frenzy
Goltz recounts the new Connect release made it much simpler to redesign FASWVA's online fundraising presence.
"Once I saw the news release for the new platform, I recognized that it was everything I needed," she said. "I was very confident that it was exactly what we were looking for."
Within three months, Goltz and FASWVA launched a completely rebooted online donation portal, going live at the end of October. As Goltz remembers, "that's when it really took off, on a year-over-year comparison."
"Click & Pledge opened up the opportunity to put the face forward that we wanted to have."

— Anna Goltz, FASWVA's Annual Fund & Corporate Relations Officer
FASWVA branded its new forms with its logo. Goltz also updated the email receipts to communicate a softer, personable touch.
FASWVA plans to increase awareness of its recurring monthly donor program. It also plans to embed its donation form directly into the FASWVA website. For now, though, the future is looking much bigger to Goltz and Allen. And for FASWVA, bigger means better.
"For me, what it came down to was that new Connect release," Goltz said. "Having that new receipt makes me more confident about sending people to the website as a fundraiser. Click & Pledge opened up the opportunity to put the face forward that we wanted to have."