In Need of a Big Change
Community radio is an animal all its own. Most people might think of radio as an anachronism, but the data would tell otherwise. Nielsen estimates 9 out of 10 Americans still listen to AM/FM radio. Public radio garners about 20 to 30 million weekly listeners. So how does such a widespread audience support fledgling broadcasters? The answer's tricky.
"For most of us who are at the smaller stations, the toughest challenge is raising funds to provide services to the public. We're in a disruptive landscape now; where public radio is not seen as so critical to the media world as it used to be."
Take WXPR in Rhinelander, Wisconsin, for example. The station serves a rural area of Northern Wisconsin and the upper peninsula of Michigan. Its programming is mostly driven by local listeners and volunteers. The rural setting and low population density means that the number of once locally owned commercial radio stations in the area no longer exist. In short: there's no room for dead air.
"Our biggest challenge is being able to tell people to turn to the lower side of the dial," said Jessie Dick, the Marketing Manager and Volunteer Coordinator at WXPR.
That sentiment isn't exclusive to rural locales, either. Annette Bistrup, Development Director for KALW in San Francisco, echoed similar feelings.
"For most of us who are at the smaller stations, the toughest challenge is raising funds to provide services to the public," Bistrup said. "We're in a disruptive landscape now; where public radio is not seen as so critical to the media world as it used to be."
For one, community broadcasting is a broad term that houses the majority of college and local publicly supported radio stations. While these stations serve their communities with unabashed dedication, the listening audience is often a fraction of commercial, genre-based FM radio networks.
It's because of these challenges that the National Federation for Community Broadcasters was looking for something more to supplement the pledge drives of their affiliated station members.
"We're the place they come to — to find out what's going on in the industry, for training, collaboration and programming," said Beverly Hacker, Chief Operating Officer of NFCB. "We're the industry group that convenes them together and works with them."
Not much about pledge drives has changed in the 46-plus years of NFCB's work. Many stations announce their pledge drive on-air (or even their website), ask listeners to donate, then cross their fingers while the donations generated by live updates roll in.
"A lot of stations, frankly, don't have the technical expertise to set up a fundraiser," Hacker said. "We've gotten along for nearly 50 years primarily on pledge drives. We thought we could just go on air and ask for money and everything would be fine."
NFCB — Hacker, in particular — declared 2016 would be the year this changed. More specifically, NFCB looked to peer-to-peer fundraising and 24-hour giving to bolster its pledges for the coming year.
Peer-to-Peer: The Next-Gen Pledge Drive
Hacker learned about Click & Pledge during a conference a year before. She saw an opportunity for community broadcasting to utilize the power of social initiatives with peer-to-peer fundraising via GiveBig®.
"We are the perfect kind of organization for peer-to-peer," Hacker said, "because we have such a vast volunteer base. Many of them don't have a lot to give in donations, but they have very large social networks."
"It's just like any other kind of fundraising. You have to prepare, have a strategy, have your tactics down, and you have to have a goal."
Getting the community broadcasters set up for not just 24 hours, but a 48-hour giving period, was the first step. But NFCB also needed to get all the stations set up and running on one website. Fortunately, with Click & Pledge's development team readily available, Hacker was able to set up the stations' individual webpages on her own. Little technical effort was needed from the stations, so getting buy-in was a relatively easy process.
"We had a track record we could point to, and Click & Pledge was a central partner that could build out a lot of stuff for our stations," Hacker said. "It took the entry barrier down to almost nothing."
Development is only part of the equation when getting ready for a GiveBig®. You also have to train personnel, resolve questions and schedules, and promote like your station's livelihood depends on it.
Again, NFCB took preparedness to the next level. For two weeks, Hacker and her team created and located best-practice resources to help prepare for the GiveBig®. NFCB compiled these into a "playbook" the stations would use to guide their on-air and social media promotions, then placed the playbook on a separate website for every station to access and download. This was the framework for what would eventually be the first-ever GiveBig To MyStation.
A Tale of Two Transmitters: An Oral History
GiveBig® events aren't just a great time to promote your organization; they're also about connecting multiple people with multiple causes. One great instance of this involved both KALW the San Francisco station — and WXPR from rural Wisconsin. As GiveBig to MyStation continued into Friday, these two wildly different stations found themselves at the top of the leaderboards.
What follows are the individual accounts of two stations working with (and lightheartedly against) each other to make a huge fundraising impact:
Jessie Dick, WXPR: "We had an open house during the first or second week of December. We asked for listeners, board members, and volunteers to record testimonials. We then took those and had a staff member produce this series of 30-second videos, and we posted them on Facebook."
Annette Bistrup, KALW: "Our main driver for all this is that we're in the Bay Area. For KALW, being in this affluent area, the hurdle to raising X amount of dollars is much lower than for stations in more rural settings… But we hadn't really engaged in any peer-to-peer efforts at KALW before. There were a couple of people who told us that they really appreciated this kind of fundraising."
Dick: "We had made our fundraising goal on the first day… and then we realized that we were ahead. KALW, the San Francisco station, was just so close behind us. And that's when the competition picked up."
Bistrup: "There was a comment on social media that came in from another donor who gave to WXPR. It said something along the lines of, 'Let's crush this little town of San Francisco!' " (laughter)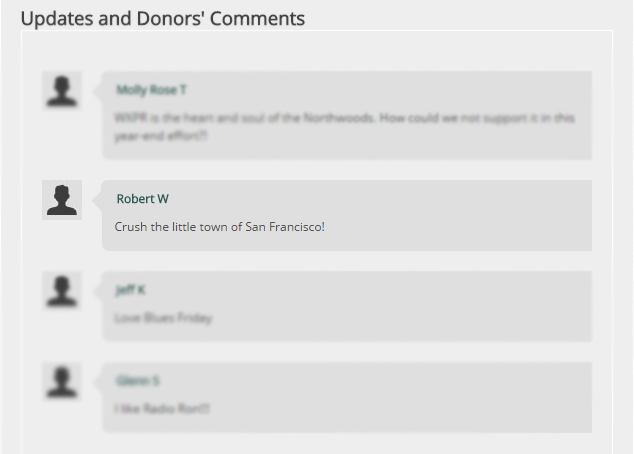 Dick: "People just really jumped on that competition. We had a screen up in the studio so we'd see how much we raised in real-time. We just kind of threw it out there to the public, and people just went crazy about it."
Bistrup: "I tried to find that donor, so then I contacted the station. We both thought it was really great that this had its own life."
Dick: "We made $5,000 through the competition that night. I don't know if we would have made that if it weren't there, but it was just great timing."
Bistrup: "We came out topping the leaderboard in terms of dollars, but it turns out the winner was decided by the number of unique donors. It turns out [WXPR] did, and I was very happy about that."
Dick: "Even after the fact, people kept emailing us asking who won." (laughter)
Signing Off
Within two days, community broadcasters nationwide raised over $60,000 with GiveBig To MyStation, going above and beyond its initial goal.
While NFCB credits the success to the devotion of public radio's volunteer and listener base, they hope to incorporate more social media promotion for future GiveBig® events.
"Jumping into tech-based fundraising can be scary or intimidating, but it doesn't have to be. It can be done easily with platforms that are readily available, like GiveBig®," Hacker said. "This is a golden opportunity for us to tap into our base in a way we've never done before."