April 27, 2017
Horizons Foundation upped its ante from last year's Give OUT Day, which earned over $445,000 nationwide.
Read More
March 28, 2017
With spring around the corner, the Roanoke Valley's future is already looking sunnier.
Read More
March 21, 2017
Click & Pledge customers can now create Facebook advertisements alongside donation forms that they build within our all-in-one Connect platform. The best part? We'll pay for your ads, schedule them, and send them out to a national audience.
Read More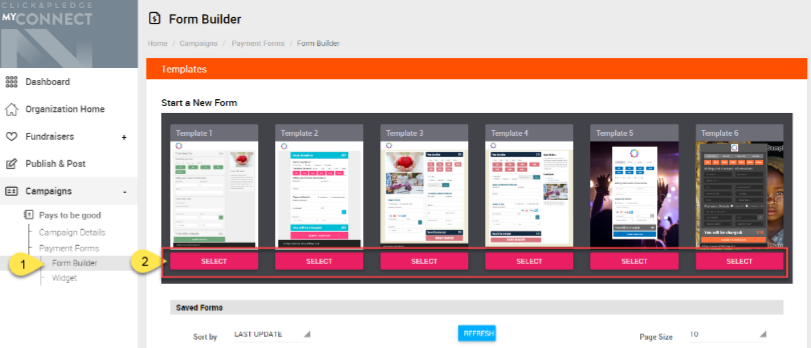 February 13, 2017
Also released: "Start" & "End" dates for form field flexibility.
Read More
January 2, 2017
Thank you to all the community broadcasters for your hard work and dedication. Over the airwaves and online, we achieve success as a team.
Read More
November 21, 2016
Georgia Gives Day 2016 earned a record $3.9 million, adding to the $12 million donated through the program since 2012.
Read More
October 17, 2016
By signing up to participate, community stations will get an individually branded fundraising website and access to a fundraising toolkit with resources like on-air scripts, email templates and graphics.
Read More
October 5, 2016
Great news for our Swiper1 users: We've updated our iOS and Android apps to help you do more good. The update is available for immediate download from Google Play and Apple's AppStore.
Read More
October 4, 2016
The new features and refreshed user interface provide an entirely new look and functionality to the widely used peer-to-peer fundraising product. Connect 2.0 also becomes the new customer portal for logging into a Click & Pledge account.
Read More
October 4, 2016
The new Click & Pledge corporate brand underscores the company's dedication to developing intelligent transaction management solutions for non-profit organizations and commercial businesses with a focus on a higher level of personal customer service
Read More
September 16, 2016
Some of the new features included in the Salesforce® app release are an update to Swiper1 registrations, as well as addition of Coupon Codes in your Salesforce® reports.
Read More
March 4, 2016
The issue has been resolved and connection should be working. We ask that all clients re-establish their connection if the critical update of TLS 1.1 has been activated in their Salesforce instance.
Read More
January 12, 2016
We're excited to join forces with our friends at Double The Donation to make corporate matching gifts even easier for our customers. Now, it's possible for Click & Pledge customers to have employers match a donor's charitable contributions.
Read More