Why Doesn't Anyone "Like" Us?
In my spare time, I perform as a local musician. I play some original music, but half of my performances consist of cover songs (I still can't nail my Michael McDonald impersonation for "What A Fool Believes.")
Only a handful of gigs in the Blacksburg area, like the downtown bars, have intended performance spaces. But during any given week, there's a lot of other stuff going on in unconventional venues. Cleared-out art galleries complement intimate acoustic or dance shows with aesthetic pleasantries. Basements are literally converted into underground noise machines.
So last summer, right when I started to get more opportunities to play, I turned to Facebook. I posted every show that I booked. Then I uploaded live performance clips and shared shout-outs to other local artists before and after gigs. I even posted pictures of handwritten setlists hours before the show.
And I failed. Actually, no, I didn't fail — I wreaked of laziness. Don't get me wrong, I worked my fingers to the bone on creating (recording, practicing, booking, and performing). But when it came to promotion — the very thing I do for a living — I dropped the ball. It wasn't that I tried too hard; I didn't try hard enough.
I was too busy getting my name on concert posters, I forgot no one knew anything about me when they glanced at them. I'll never forget performing my first (and last) regional show at midnight to a scant crowd of five (one was reading a book!) I had fewer attendees than my opener, who sang karaoke to Coldplay's "Yellow" by plugging his iPod directly into the sound system. That was a long drive home.
There's a lot to be said for word-of-mouth event promotion. But at the end of the day, promotion is about getting the most people available to act. And that's why my social media failure, coupled with some other successes, helped me learn how to better leverage Facebook engagement. Whether you're a struggling artist or a regionally successful 501(c)(3), it begins with starting a conversation.
1. Just Ask!
It may seem silly to start out with something so simple, but really — this works. A recent research initiative studied a life insurance company's efforts to increase Facebook Likes. The company, Vitality Health, sent out different versions of the same email newsletter. It requested its customers in four randomized messages to "Like" the company's Facebook page. The results were astonishing.
Customers agreed to like Vitality Health's Facebook page at an alarming rate — 69% of newsletter recipients, to be exact.
Facebook often re-posts announcements from your friends' page likes to your News Feed. This signal is often received by Facebook users as testaments to their friends' brand loyalties. So the effect is almost like word-of-mouth marketing, but no one has to say anything.
We ran this test ourselves at Click & Pledge with a recent newsletter. We sent this email to current members asking to like our Facebook page, and here's how they responded: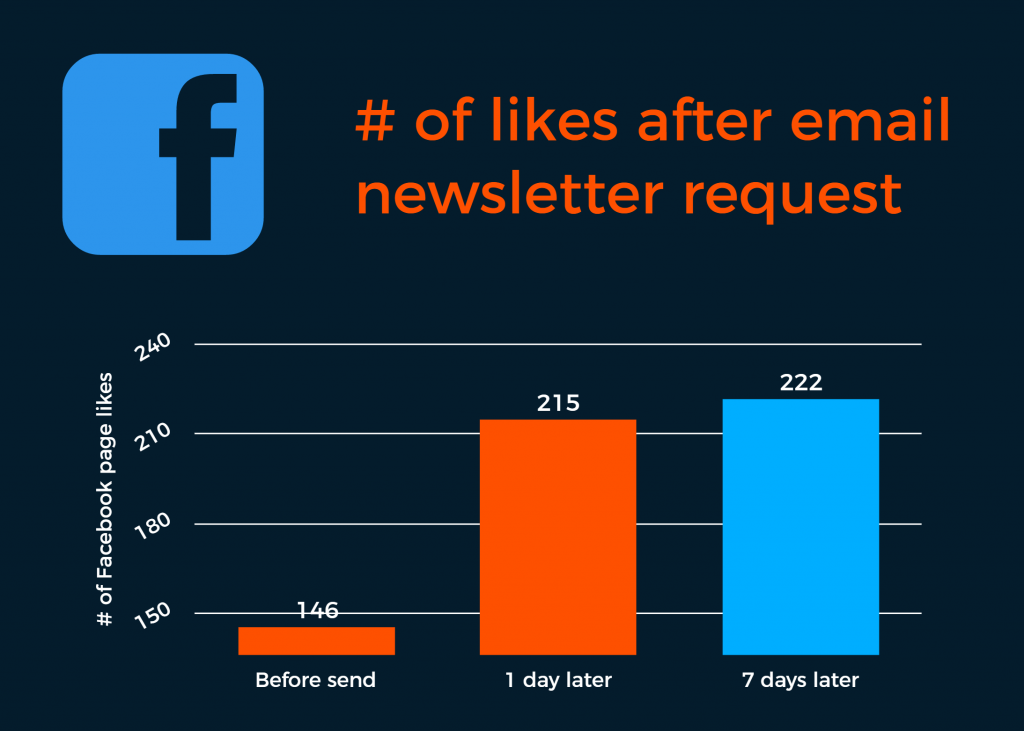 "Ask and you shall receive" can be a proven concept in the social media world — as long as you provide reasonable rationale for your small request.
Vitality Health noticed an increase in likes on its Facebook page. But customers also logged 8% more activity on its iOS app, Vitality Today, after it started boosting Facebook posts. That statistic includes customers who previously logged zero app usage.
This research implies Facebook isn't just an effective promotional communications tool. It also means that Facebook can impact a user's offline behavior.
It's a growing trend in the nonprofit industry, which is why we hopped on the Facebook hype-train last month. Our new Facebook Ads Manager integration in our Connect platform helps you create a Facebook ad that links directly to your campaign's donation page. But unlike other Facebook ad integrations, we're the only company in our industry that will offer to run your ad for free.
2. Content is Still King, But Only if People Pay Attention
Ever heard of the Pareto Principle? Commonly known as the 80/20 Rule, it was intended to express how 80% of land is owned by 20% of the population. You may have heard this expressed in a number of different ways:
80% of your donations come from 20% of your supporters
20% of software bugs produce 80% of technological errors
More drastically, just 0.15% of free-to-play mobile gamers bring in 50% of revenue
You get the picture. But it's also good rule of thumb that Social Triggers CEO Derek Hapern recommends when considering the ratio between your content creation and promotion.
For example, every hour you spend writing a blog post (like this one), you should invest four hours into promoting it. Or on a more relevant note, for every day you spend planning a donation drive, you should spend four hours scheduling and crafting your promotional tactics.
It's healthy to remember that "build it and they will come" isn't a workable attitude toward fundraising promotion. Stakeholders and potential supporters need awareness across multiple channels to increase both recognition and recall of your organization's efforts.
3. Don't Tell Me About Your Hard Work, Show Me
Remember the Ice Bucket Challenge about three years ago? That was pretty fun, wasn't it? Not only was it (relatively) easy to challenge your friends to a worthy cause, it also went mega-viral on Facebook and Twitter. Today if you Google "ALS," then "…Ice Bucket Challenge" is the first result.
Facebook's photo and video albums are great ways to show your volunteering and peer-to-peer efforts.
Full disclosure: the following Facebook Feed excerpts are from Click & Pledge Causes
The Roanoke Valley SPCA posts some incredible images of its day-to-day activities. But notice how much impact a single image can make if an organization quantifies its efforts.
For World Down Syndrome Day, Gigi's Playhouse Tampa promoted a similar push-up challenge to urge donors to give $21: one for each push-up. While the social engagement itself is strikingly resonant, it was also effective. The campaign received over 300 donations of exactly $21, and earned $10,000 overall. Watch and learn how it's done:
Thank you Tampa Bay! Because of your kindness and generosity, GiGi's Playhouse Tampa exceeded our challenge of receiving 321 donations of $21 and raised over $10,000 on World Down Syndrome Day! We want to thank everyone near and far that donated to our Playhouse and let you know how much we appreciate you! Now as promised our boys Nick Altieri, Sam Piazza, and David Scott are going to each do 21 push-ups. You got this boys!!! Please share so we can be sure to thank everyone that donated! ❤

Posted by GiGi's Playhouse Tampa on Wednesday, March 29, 2017
Learn From Your Efforts
This is only a sample of great experiments to try to engage your constituency via Facebook. You may find that some of them work, and others don't. But the most important thing is that you're trying to reach out. Let trial and error help guide your social strategy.
You might have an overnight viral sensation on your hands, or it may take six months for you to get past 100 Likes. Do the work. The rest will follow.