SMSgiving From Click & Pledge.
A Powerful New Way To Fundraise.
Fast, easy, secure giving that's perfect for Causes of any size.
Customize giving amounts, set recurring donations, and capture all donor information in real-time.

powered by Click & Pledge and Twilio
Enhance Your Marketing Strategy
Use scan-to-give in your fundraising campaigns, marketing materials, and events.
Make it easy for donors to support you in less than a minute by texting a custom keyword to an assigned number or shortcode.

Track donations in real time.

Add SMSgiving to an existing campaign, or create a new one.

Create a custom keyword (call-to-action) that relates to your campaign.

Customize your SMSgiving campaign with an unlimited amount of conditions and responders.

Customize your SMSgiving form to match your brand – no coding required.

Give your donors a real-time receipt and a custom thank-you message.

Run reports and see the progress in real time.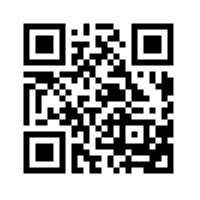 Test drive SMSgiving by scanning the above code, using a QR Code reader on your mobile phone. Process using the test card: Use four and 15 ones for the credit card number, any future date and 123 for CVV number.
Happy Donors = Good Donors
Go Mobile. Meet them where they are.
Our SMSgiving forms were made for one purpose — quick, on-the-go giving.

Our SMSgiving forms are compatible with any smartphone.

Thank them after each donation with an SMS text receipt and an email receipt.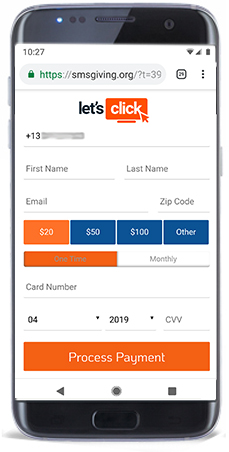 Rest Assured
SMSgiving maintains the highest level of security.
Certified Level 1 by the Payment Card Industry Data Standard (PCI DSS), the highest security standard in the payment industry.