Swiper1 Mobile Suite
+
Credit Card Reader For Nonprofits
A better event registration experience.
Easy, seamless, and reliable Bluetooth credit card authorization.
Swiper1 is the only mobile credit card reader that combines the power of instant donations with one of the lowest processing rates available to nonprofits. Instantly accept donations wherever your nonprofit takes you: fundraisers, conferences, galas, and more. And when coupled with the Event Management app with Salesforce®, Swiper1 is a mobile event registration powerhouse.
Authorized In An Instant
Accept payments anywhere using your Android or iOS device.
Pre-authorize transactions to ensure a hold on funds before transactions are completed.

New EMV chip reader lets you insert, swipe, or manually enter credit cards for secure and reliable authorization.

Add optional tips and additional donations, fees, or other payments prior to checkout. Pre-set or enter manually, as fixed amounts, or percentages.

Email transaction reports to yourself or anyone else as a CSV file.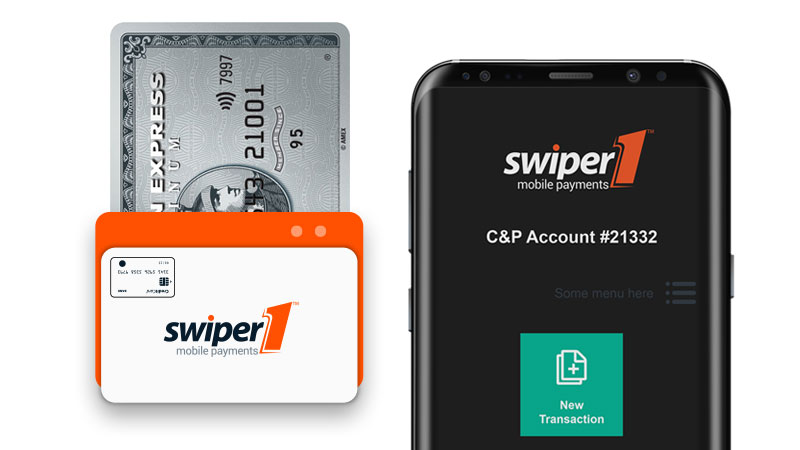 A Storefront In Your Pocket
No catalog or product limits.
Back up and restore products and settings across multiple devices and accounts. Recover via QR code available.

Sales tax, tax-deductible, and fair market value settings available for each item.

Email, SMS, or print receipts on-site.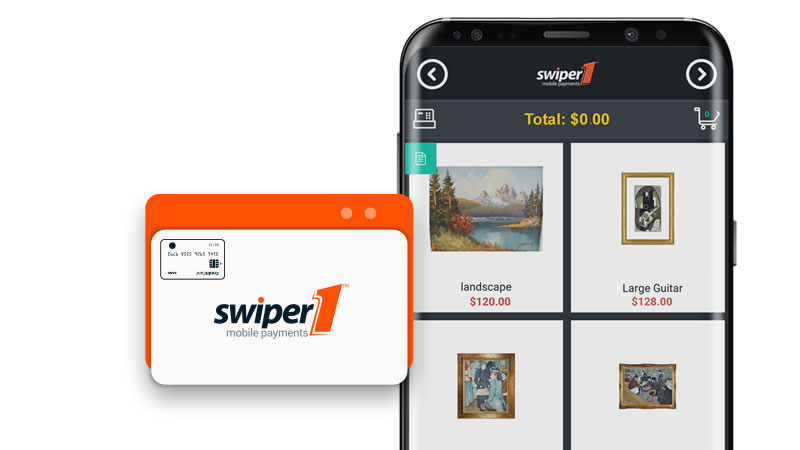 Gain Recurring Donors On-The-Go
Create recurring payments for set periods, or indefinitely.
Customize scheduled payment options on catalog and payment pages.

Various schedules available for subscriptions and installments, including:

Weekly
2 Weeks
Monthly
2 Months
Quarterly
Annually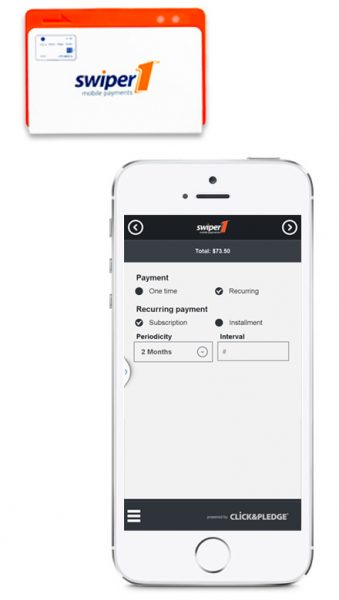 Check-In & Register Guests With Ease
Register attendees electronically and keep track of your ticketing in real time.
Use the free Swiper1 Mobile app to register attendees, accept payments, and scan QR codes at the door. Event Registration & Event Check-In/Check-Out is available via our free Event Management app with Salesforce®.

Look up Salesforce® contacts on the Swiper1 app. Automatically update existing contact records, or create a new contact record with the transaction, without any additional matching.

Syncs across all Swiper1 users within your organization. Customize permissions and access for each user, so you can control who needs to see what.