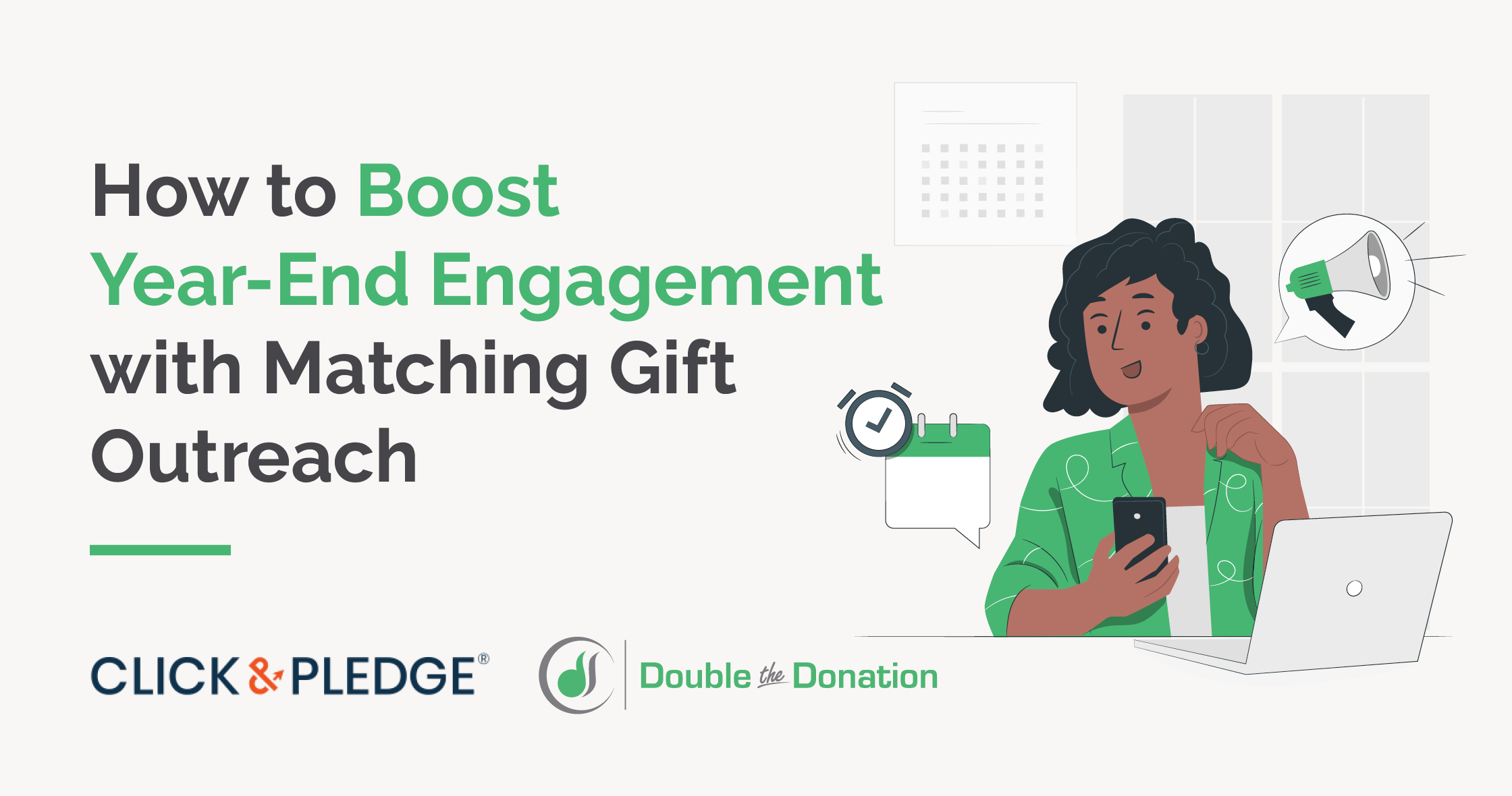 As the year draws to a close, many organizations are preparing strategic year-end fundraising campaigns⁠—including Giving Tuesday efforts and beyond⁠—to end the giving season on a high note. But did you know that one key method has the potential to multiply your fundraising impact and bring donor engagement to new heights? 
We're talking about matching gifts!
This powerful fundraising tool not only drives corporate giving revenue for your mission, but it also inspires greater individual support and fosters deeper relationships with your cause.
In this blog post, we'll explore how smart matching gift outreach can make a huge difference in year-end fundraising efforts. Specifically, we'll cover:
Why Year-End Donor Engagement Matters

How Matching Gift Communications Can Help

Top Ways to Drive End-of-Year Impact With Matching Gifts
Let's begin!
Why Year-End Donor Engagement Matters
The year-end season often represents an organization's most lucrative fundraising period⁠—and high levels of generosity at this time can help balance out any slower periods of giving. It's also a chance for a nonprofit to build deeper connections with the individuals who support its cause.
As a result, it's essential for fundraisers to engage with their donors and gather ample resources to start the new year with the backing they need for long-term success. Effective end-of-year relations set the tone for continued involvement in the coming year, bolstering an organization's mission and maintaining a loyal and highly engaged supporter base.
How Matching Gift Communications Can Help
Tons of match-eligible donors have no idea their employers offer such programs. Thus, those falling in this group are not going to take the steps required to request their available matches before year-end deadlines, ultimately resulting in your nonprofit missing out on potential funds. That is, of course, unless your organization makes a point to incorporate matching gift communications in your year-end strategy.
Match-related outreach can boost engagement in other ways, too. For example, including matching gift information in donor communications allows you to…
Capture supporters' attention with inspiring appeals that cut through the noise

Encourage on-the-fence donors to give

(84% of donors are more likely to give

if a match is offered

)

Establish a sense of urgency at the year's end, thus inspiring immediate action

Retain your mission at the top of donors' minds for longer

Deepen individuals' connections to your cause

And more!
Donors love supporting charitable missions when they see their dollars making a real difference for the needs they care about. By effectively communicating the potential for individuals' contributions to be matched, organizations inspire a sense of amplified impact and lead more donors to get involved in the holiday season.
Top Ways to Drive End-of-Year Impact With Matching Gifts
Matching gifts offer a remarkable opportunity for the nonprofits, donors, and companies that take part. But how can the programs be leveraged effectively to benefit your organization's mission? Check out these tried-and-true tactics to drive end-of-year impact with matching gifts.
1. Educate your audience about matching gifts leading up to the year's end.
We mentioned that there's a significant knowledge gap facing matching gifts, and a lack of donor awareness is one of the leading reasons for unclaimed corporate funds. Thus, educating donors about matching gifts leading up to the year's end is crucial in driving engagement.
This might include:
Sharing matching gift information on your organization's website

Posting educational content on your social media profiles

Incorporating mentions of matching gifts into regular communication channels
The bottom line is that when they're already familiar with the concept, supporters will be increasingly inclined to participate when the time comes. We recommend starting your matching gift promotional efforts early to drive the best results. 
And don't forget to inform your fundraising staff about the matching gift opportunity, either. The better prepared your team is, the more matching gifts you'll be able to drive to completion⁠—and the more effective your endeavors will be. Luckily, educational resources like the Matching Gift Academy are available for internal training use, and access is even free for Double the Donation clients.
2. Gather employment information within the donation process.
In order to uncover matching gift opportunities in your donor base, you'll need to know what companies your donors work for. Your giving form during the holiday giving season provides one of your best opportunities to collect this information!
All you need to do is add an optional field⁠—or an embedded company search tool⁠—on your donation page that asks users to provide the name of their employer. When you let them know that the information allows you to determine matching gift eligibility, most supporters will be happy to oblige. (In fact, Double the Donation research reports that over 73% of donors use a matching gift search field on a donation form when available.)
Plus, you can scan provided email addresses for corporate domains and identify match-eligible donors that way.
3. Follow up with end-of-year donors after they give.
Maintaining your connection with end-of-year donors after they give is essential for driving engagement and turning one-off donors into long-term givers. And post-donation match reminders are a crucial part of a complete matching gift communication strategy.
Simply send a follow-up email (ideally within 24 hours of the initial donation being made in order to retain momentum) and encourage donors to take the next step in the match submission process. If you've collected employment data, as per the previous tip, you can even provide supporters with tailored, step-by-step guidance according to the company they work for⁠—including direct links to their online request forms!
4. Send last-minute matching gift reminders for previous donors.
Encouraging recent donors to participate in matching gifts is always a good idea. But at the end of the year, there's another segment you'll want to target with matching gift outreach as well: eligible donors who have given earlier in the year but do not appear to have requested the associated match yet.
After all, many companies set their matching gift submission windows for the end of the calendar year. That means donors who gave in January of the current year may still qualify for a match⁠—but the same might not be true once the new year rolls around. Highlighting the approaching deadline with a last-minute match reminder can serve as a helpful nudge and often rekindle supporters' engagement with your cause.
This idea also provides existing donors with a unique and exciting way to support your end-of-year fundraising efforts even if they can't make another gift at this time.
Bonus:
Automate the matching gift fundraising experience.
We know the end-of-year giving season is already a busy time for nonprofit fundraisers, and matching gifts might feel like just another project to tackle. But that's where innovative automation comes in!
Automating the matching gift fundraising experience can drive significant results in terms of engagement and revenue alike⁠—without taking up too much of your organization's time and resources. Luckily, it's easy to streamline each of the above practices in your Click & Pledge platform thanks to a seamless integration with the industry's leading matching gifts software provider: Double the Donation. And it's not too late to get set up in time for year-end fundraising!
End-of-year matching gift outreach presents an unmatched opportunity for organizations to connect with their supporters on a new level and secure the mission funds they need. As you prepare your team for the upcoming giving season, keep matching gifts in mind throughout every aspect of your engagement strategy. You won't regret it!
Sign Up for Click & Pledge Today!