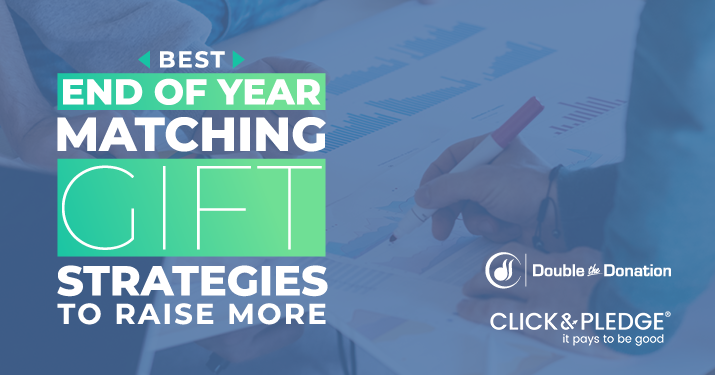 The year-end giving season is rapidly approaching⁠—but is your nonprofit ready to make the most of it?
Our top suggestion for elevating any fundraising campaign is through matching gifts. When donors secure gift matches from their employers for your fundraising efforts, they can essentially ensure their initial donation goes twice as far. While this is certainly true at all times, it's especially vital to consider during the final days and weeks of the year when donors are already feeling particularly charitable.
That's why we've put together this quick guide to help provide nonprofits with the resources and strategies they need to optimize their fundraising efforts with matching gifts. Specifically, we suggest the following tried-and-true tips:
Dive into Giving Tuesday with matching gifts.

Integrate matching gifts in your donation process.

Personalize follow-up outreach to match-eligible donors.

Employ last-minute year-end match reminders.
Ready to find out exactly how matching gifts can improve year-end fundraising for nonprofits of all shapes and sizes? Let's dive in with our first suggestion!
1. Have a Plan Dive into Giving Tuesday with Matching Gifts
Giving Tuesday is often considered the jumping-off point for the end-of-year fundraising season, and it's important to start your efforts off strong. That means incorporating matching gifts in your Giving Tuesday promotions!
As the big day approaches, take a look at these suggested tips for success:
Take a multi-channel approach to marketing matching gifts.

Mention matching gifts in all of your Giving Tuesday appeals.

Leverage eye-catching matching gift imagery to grab and hold your audience's attention.
Then, follow up with Giving Tuesday donors aftward to remind them about matching gift opportunities! This is particularly important for those who had previously submitted a match-eligible gift without requesting a corporate match at the time of the initial donation.
2. Integrate matching gifts in your donation process.
Your supporters are typically at their highest level of engagement while actively making a donation, so it makes sense to include matching gifts directly within the process. By employing a searchable matching gift database tool directly within your online donation form, you can provide donors with the resources they need to quickly and easily determine their next steps for securing a company match.
Here's how the donation process typically works with a matching gift tool:
A donor fills out your online donation form.

The donor is prompted to enter their employer's name in an optional search field.

The donor completes the online form and submits their gift.

The donor is encouraged to take the suggested next steps to request a corporate match from their employer via a follow-up email.
Incorporating matching gifts into the donation process allows nonprofits to identify who is eligible for a match, which can later be leveraged in targeted donor outreach. Plus, donors tend to be more likely to give and give more if they know their employer will match their contributions.
3. Personalize follow-up outreach to 

match-eligible donors.
The more personalized your messaging, the more likely the recipient is to read and take your intended next steps.
For example, you should personalize your communications to address the donor by name, acknowledge their specific gift, and, if known, highlight their employer's matching gift initiatives. The less research the donor has to conduct on their own, the more likely they are to follow through and secure a match.
And when you automate your matching gift processes, you can save a significant amount of time and effort for your team while maintaining efficient, tailored matching gift communications. Plus, you can reallocate resources to take an even more relational approach with your highest-value matching gift prospects!
4. Employ last-minute year-end match reminders.
You'll certainly want to target donors who make end-of-year gifts with information about how to secure a match. However, one group you don't want to overlook is those who had given previously in the year despite not requesting a match at the time of the donation.
The majority of employers with matching gift programs offer significant grace periods between when an employee makes their gift and when they're required to submit the request. While the submission deadlines vary from business to business, many accept requests through the end of the calendar year in which the gift was made.
Thus, sending last-minute matching gift reminders can help you re-engage your donors whose gifts are still eligible for a match, even if they had given it several months ago!
You'll also want to take this time to reach out specifically to your recurring donors. Many companies will match monthly or other regular gifts as well. By batching them together, you can allow more supporters to become eligible for a corporate match, despite a single gift falling below their company's minimum donation threshold.
All in all, matching gifts have the power to significantly elevate a nonprofit's year-end fundraising tactics⁠—but it requires the right tools and strategies to do so.
By making the most of Giving Tuesday, incorporating matching gifts in the donation process and donor follow-ups, and sending last-minute reminders as the year comes to a close, you can ensure more matches are requested and secured than ever before. Just think about the doubled impact it can have on your organization!