The end of the year is nearing, and there is no better time like the present to start thinking of ways to boost your fundraising efforts before the year is over. If you're planning a year-end fundraising campaign or launching a spectacular event, you're definitely in the right direction!
But have you thought about promoting matching gifts in your year-end fundraising strategy?
For many organizations, matching gifts is full of untapped potential. With corporations matching donations (sometimes as much as $5,000) made by employees, your organization has the potential to double, if not triple, the amount of money you raise.
Further, the end of the year is the opportune time to promote matching gifts because corporations often have deadlines that require employees to submit requests by December 31st. Additionally, donors are always in a giving mood during holidays. Knowing that they can double their donations at no additional expense can motivate many donors to submit a request.
The challenge, however, is that donors don't always realize that these programs exist, and if they are aware, they're not familiar with the guidelines on how to submit a request.
Nonprofits that want to take advantage of matching gifts, must learn how to efficiently promote them before, during, and after the donation process.
To help nonprofits become matching gift experts, we've compiled a list of 5 ways nonprofits can market matched giving:
Get ready to start doubling your donations!

Let's face it: Your website is the best place for donors to get information on your organization and learn about ways to support your cause.
As such, there's no better place to promote matching gifts. Your organization can (and should!) create a dedicated page that:
Defines matching gift programs.
Lists out common guidelines and requirements.
Provides resources to learn more about matching gifts.
Includes a matching gift search tool that allows donors to search for their companies' program.
For more information on what you should include on your matching gift page check out this post that covers all the basics of matching gifts.
If you can't create a dedicated matching gift page, you can always include similar information on your "Ways to Get Involved" page like the March of Dimes did on their website: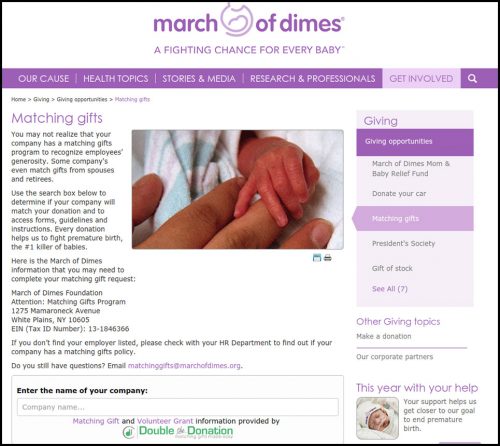 On their matching gift page, March of Dimes included common information that might be required during the submission progress as well as a resource where donors can find their employers' specific program.
With a dedicated matching gift page, you can make the matching process easier for donors. For instance, if they have questions, you can easily direct donors to this page to learn more.
Final thought: Create a matching gift page on your website as a resource that's always available for donors to refer to when they have questions.

With well over a billion users on Facebook alone, social media is a prime place to encourage donors to contribute to your cause. In fact, social media might already have a spot in your year-end fundraising strategy — and that's great!
If you're already using social media to direct donors to your online donation forms, why not remind them about matching gifts as well?
Platforms like Facebook and Twitter are the perfect place to promote matching gifts because you can easily link to your matching gift page as well as other information to make it easy for donors to submit a request.
In this tweet by AARF Atlanta, you can see how easy it is to promote matching gifts as part of your year-end campaign: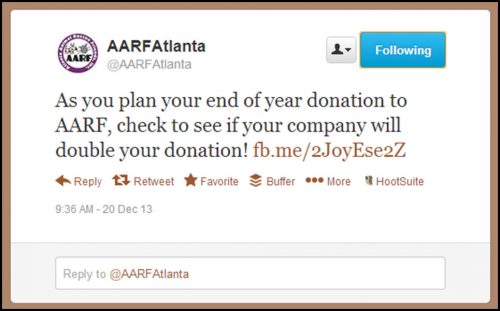 This post does a lot of things successfully:
First, AARF Atlanta included a link to where donors can learn more about matching gifts.
Second, the post draws the supporters in by letting them know that their gifts can go further.
Last, the tweet is short and to the point. While social media is a great way to get donors interested in matching gifts, it isn't the place to fully explain all guidelines and requirements — that's what links are for!
If you want to make your matching gift posts stand out, you can also add visuals to grab your donors' attention.
Final thought: With so many different possibilities, there is no shortage of ways you can promote matching gifts on social media. Just be sure to provide donors with additional resources so they can learn more.
In addition to marketing matching gifts before donors contribute, you can also promote matching gifts during and after the donation process.
Place information about matching gifts directly on your donation form. As supporters are contributing, they can know whether or not their donations are eligible to be matched and what's necessary to submit a request.
You can take matching gift promotion one step further by embedding a matching gift search tool to encourage donors to look up their employers' program.
Look at how Second Harvest incorporated the matching tool into their donation form: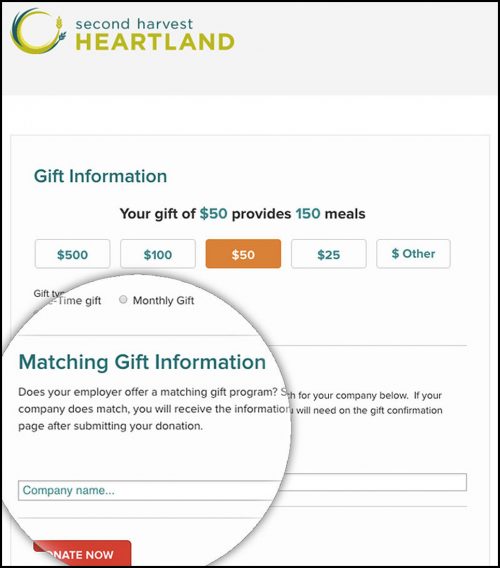 The organization placed the matching information right below the donation amounts. Once a donor knows that their gift can be doubled by his or her corporation, that individual might even decide to contribute a larger gift.
Organizations can use a matching gift search tool on all their online fundraising platforms including mobile donation forms.
Even after donors contribute, you can promote matching gifts in thank-you letters and acknowledgments.
Generally, it's best practice to include other ways donors can support your cause in acknowledgment letters. Your organization can also remind donors about matching gifts. Encourage them to learn more about their employers' program by providing them with the necessary resources.
Acknowledgment letters are the perfect place to promote matching gifts because donors can make their donations go further without dipping into their wallets a second time. Just remember to send donors another thank-you letter once you've received the matched donation from their employers.
Final thought: Make the most of your online donation process by promoting matching gifts directly on your donation forms and in your acknowledgment letters.

The last tip on our list of ways to market matching gifts is to use matching gift automation software. This strategy is especially important for larger organizations and higher education institutions.
With so many donors to keep track of, larger organizations can use matching gift automation tools like 360MatchPro to track eligible donations and gain a better sense of how much was raised through matching gifts.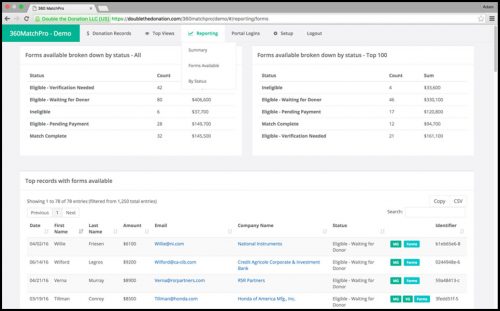 The core features that a matching gift management tool can provide include:
Email Domain Screening: Every time a donor completes the donation process using a work email, the system will instantly identify if the gift is eligible to be matched and send out automated emails with specific information on each donor's matching gift program.
Automated Tracking: Automated emails will include a tracking link that once clicked will notify your organization when a donor has submitted a matching gift request.
Robust Matching Gift Management: With every donation in a centralized location, your team will be able to pinpoint the best matching gift opportunities by segmenting your list of donations by the companies with generous programs, high-value donations, and deadlines.
As you can see, matching gift automation tools can make the most of your team's time and resources to ensure you are maximizing your matching gift potential.
Since your organization can track donations through every stage of the matching gift process — from the initial donation down to a confirmed matched gift — you'll be able to get a much more accurate estimate of your fundraising progress.
Final thought: If your organization has a large donor base to manage, investing in a matching gift automation tool to make tracking matching gifts and reminding donors to submit a request quick and easy.
There you have it — marketing matchings doesn't have to be a challenge. With these simple strategies, you can incorporate matching gift promotion before, during, and after donations. Just remember to provide donors with the resources they need to make submission easy.